Dr. V Sunglasses
Dr. V Sunglasses - The World's First Anti-Pigmentation UV400 Sunglasses.
With their signature oversized design, they can help protect the skin around the eyes, upper cheekbones and temples from UV damage & hyperpigmentation.
LENS: UV400, non-polarized. Dimensions: 14.5cm x 6.5cm (at widest point).
ARMS: Cellulose Acetate (6mm thick). Dimensions: 11cm x 5.5cm (at widest point).
April 2023 - Now shipped with stick-on nose pads to prevent slippage off nose in some cases (optional use).
> Crystal clear vision with the highest quality UV400 lens available.
> 100% UV block of the eye area, cheekbones and temples.
> Flattering wrap-around curves make them easy to wear and style.
> Dimensions: Front Lens = 14.5cm width x 6.5cm height
Since April 2023 - Now shipped with stick-on nose pads to prevent slippage off nose in some cases (optional use).
Only one size available.
To know if this item is likely to fit you, PLEASE MEASURE from front/top of left ear to right ear, across the eyes and bridge of the nose. These glasses will fit most people who measure 27cm+ in this direction.
These glasses are unlikely to fit people with smaller faces or flatter noses, so please purchase at your discretion.
Please also note, these sunglasses are larger and heavier than normal glasses, in order to protect a much larger skin surface area from UV rays.

By blocking 100% of UV to the peri-orbital area, cheekbones and temples, melanocyte activity will reduce. In some early cases of melasma, a reversal is possible.
> 70+% of melasma starts on the cheekbones due to UV damage.
> 80-90% of the cause of premature skin aging is also UV.
> The main cause for dark circles appearing worse with age is UV triggering the melanocytes, and the thinning of skin around the eyes.
With a PHYSICAL SUN SHIELD, you know your areas most vulnerable to developing pigmentation are fully protected, unlike with normal sunglasses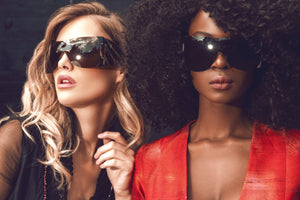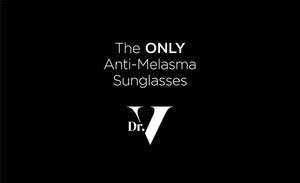 God sent uv sunglasses 😎
The dr v sunglasses I wore on my hoilday to India , where the sun was beaming on my face most days but the sunglasses were god send with total sun block protection. I wore 247 and got so many compliments . Best purchase ever so it's a must buy if you want be totally safe from sun damage pigmentation . Don't wait early preventative is key.
BEST SUN GLASSES EVER!!!!
This is the best pair of sunglasses that I have purchased. I would strongly recommend it to all people interested in blocking out the rays from the sun, not to mention that I can see clearly through them. I recommended them to 2 other people, and they were also happy with them. Kudos to Dr. V!
Perfect sunglasses
This is my second pair. I initially purchased the black pair and several weeks back I purchased the blue. They are very comfortable and definitely provide great coverage. My only complaint is the nose pad change.
Review on Melasma Glasses
I love the glasses very stylish and knowing I have added sun protection. I have a small face so it is a little loose.
Dr V melasma glasses
Best uv protection glasses covers well those spots where the sun hit the face
Best sunglasses I have ever purchased! Worth every penny!!
They are very nice but they are loose, they keep falling. I keep pushing them back, so that's annoying. It covers my eyes fully and sides as well., which is good.
Love it!
Glasses is perfect, love it. It fits perfectly. I have not worn it much yet, waiting for the summer when it's sunny.
Excellent Coverage
These glasses cover all the right spots, cheek and eyes. You can be confident that it provides full coverage from the sun.
The nose bridge is a bit wide and easily slides off the face when looking down.
Sunglasses
Brilliant sunglasses for protection against melasma but quite heavy and mark the nose.
★★★★★

"The sunglasses are to die for plus it actually protects me from the sun. I might purchase all colours."

Eob Brown

via DR V SOC Facebook Group
★★★★★

"Loving my Dr V Sunglasses :)"

Sharon Miller, UK

via Dr V SOC Facebook Group
★★★★★

"I don't leave home without my sunglasses"

via IG @Rwandafitmoms