Lovingly designed for
skin of colour
by Dr Vanita Rattan, trailblazing cosmetic formulator.
REDEFINING
SKINCARE
Gentle & effective formulations, optimised for darker skin.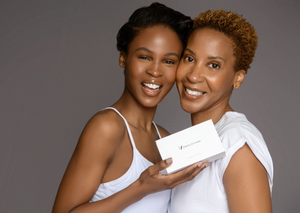 Invisible SPF50 Mineral Sunscreen
Let customers speak for us

LOVED BY DERMATOLOGISTS
Dr Stephens, USA
"My favourite kit for hyperpigmentation around the eyes is the Dr V Dark Circles Kit"
VIDEO REVIEW
Dr Necca, Nigeria
"Lip-X is phenomenal, I'm so happy with the way you combined these tyrosonaise inhibitors"
VIDEO REVIEW
Dr Bakhit, jordan
"You are the beacon of hope for darker skin colour, you've provided a safe alternative for people who suffer with hyperpigmentation."
VIDEO REVIEW
★★★★★

"When I started following the things she [Dr V] was saying, I really saw a change in my skin..." View full TikTok

@amandalawsonglam

Skincare Influencer
★★★★★

"Dr V is a mine of information, she is the worlds only cosmetic formulator for Skin of Colour..."

Shalini Sharma

Canada
★★★★★

"Dr Vanita Rattan is a master of her craft and a fountain of knowledge when it comes to looking after melanin-rich skin.

Not only is her advice easy to
understand and centred on solid science - most importantly it works."

Dr Lauretta Ihonor

UK
★★★★★

"LipX is a masterpiece and I absolutely love it. Dr V gives amazing advice for Skin of Colour, you will be mind blown."

Dr Sakshi Sahwal

India
★★★★★

"Dr V is one of the only people worldwide that focuses on Skin of Colour - how to treat it properly and safely."

Dr Anjana Bhana

South Africa
★★★★★

"LipX is a very beautiful product. My clients have responded so well to the LipX home kit and they love the ease of the application."

Dr Sumit

India
★★★★★

"I absolutely recommend anyone with melanin rich skin to check out Dr Vanita Rattan, she knows everything about pigmentation."

Lakisha Adams

Skincare & Beauty Blogger
need more help?
If you are new to skincare and don't know where to begin, you can always contact us at sales@skincarebydrv.com for an email consultation.
SCIENCE LED,
DATA DRIVEN
Only clinically proven ingredients used. Made in the UK to EU cosmetics quality & safety standards.
KIND TO SKIN
Free from Fragrance, Essential oils & Denatured Alcohol. Vegan Friendly, Gluten Free, Cruelty Free.
81% OF OUR USERS SAY THEY WILL RE-ORDER.